toby's estate coffee, williamsburg
125 n 6th st
brooklyn, ny 11249
nearby points of interest:
williamsburg water front at the west end of n 6th st
coffee | devocion, sweatshop, blue bottle & sweetleaf
shopping | space ninety 8, maje and artists & fleas
region: north williamsburg
hours:
m – f 7 – 7
sat – sun 8 – 7
wifi: yes
outlets: none
additional locations | west village, flatiron & vanderbilt urban space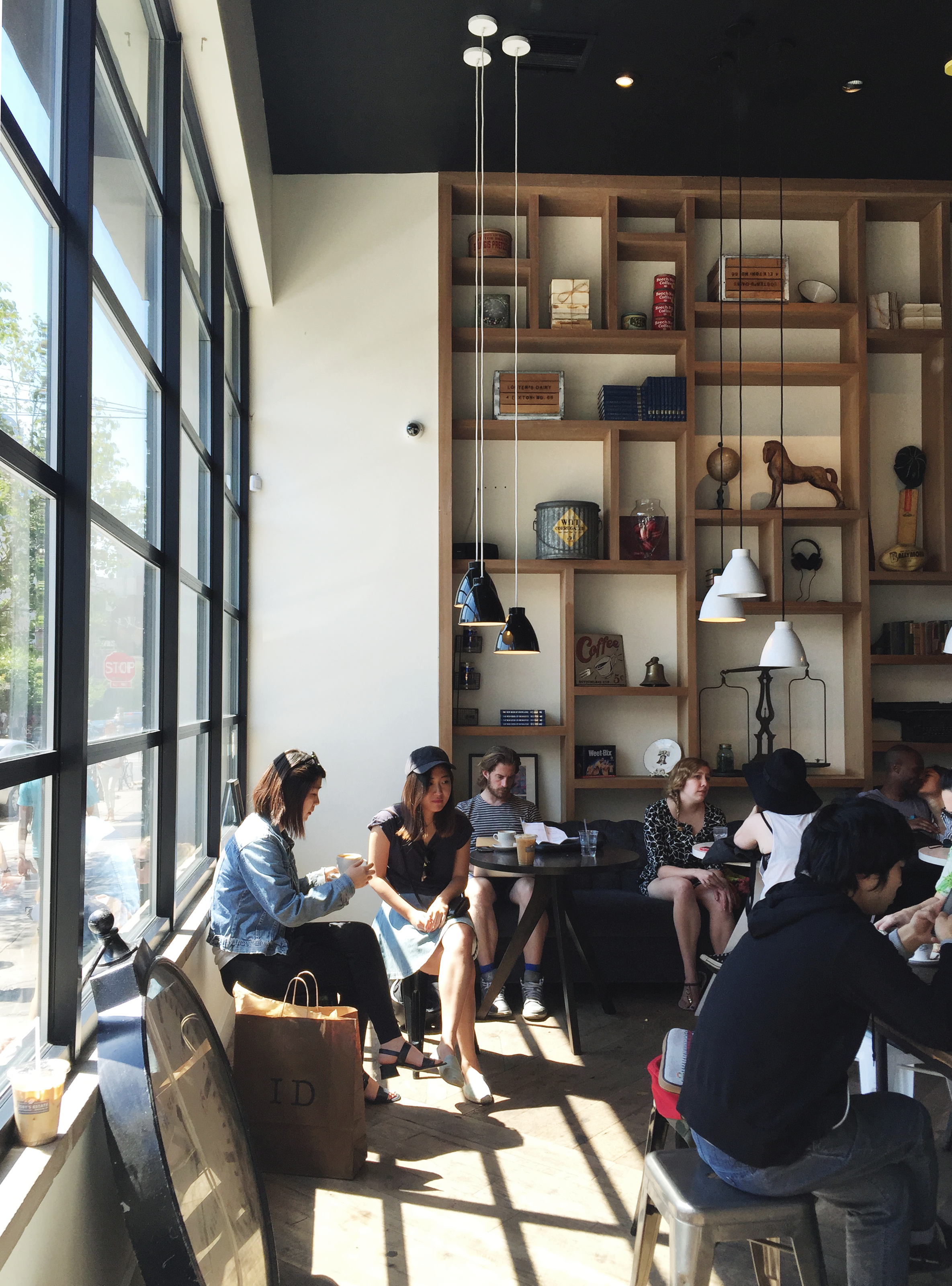 the back-story
toby's estate in williamsburg will forever be one of my favorite coffee shops. the way the space makes me feel each time i visit represents the types of emotions/vibes i hope to feel each time i visit a new escape.
the first time i walked up to toby's i was immediately engulfed by its expansive windows and couldn't help but stand in front of the shop in complete awe. i know i looked like a total tourist, but i'm pretty positive you will too on your first visit. being from the mecca of chains (aka the suburbia that is the oc), i was not accustomed to this type of styled grandeur. toby's embodied so much of why i yearned make the cross country move to nyc. its chic urban surroundings, effortlessly intentional design, and all the coworking vibes i felt made me feel so alive. every time i'd visit nyc i'd make it a point to work out of toby's at least once, and visiting the space now as a new yorker makes me feel so grateful for how far i've come.
the escape
toby's estate coffee in williamsburg is the one-of-a-kind shop you always take out-of-towners to when you're aiming to provide the complete brooklyn experience. there's a bit of magic to the space, and the combination of its loft-like ceilings, grand shop window, and its prime location on n6th come together to catch the most spectacular light on even the gloomiest of days.
toby's was designed with a clear and meticulous vision. its precise layers of décor draw your eye in, and you find yourself viewing the space with fresh eyes each time you visit. they got the coffee shop equation just right, and there's something for everyone here. whether you're a coffee connoisseur, design aficionado, digital nomad or avid people watcher, visiting toby's will make your heart flutter.
brought to life with effortless intention, toby's serves up an exceptionally curated experience for all your senses. part of the space's magic is its ability to create a different experience each time you visit. when i sit on the couch along the shelves i become entranced by the crowds and can't stop daydreaming up new ideas. alternatively, when i sit at the communal table, the infectious energy of the co-working around me pushes me to pump out those tasks i've been putting off forever, and for me these feelings have always been enough to brave the crowds that flock to this toby's outpost.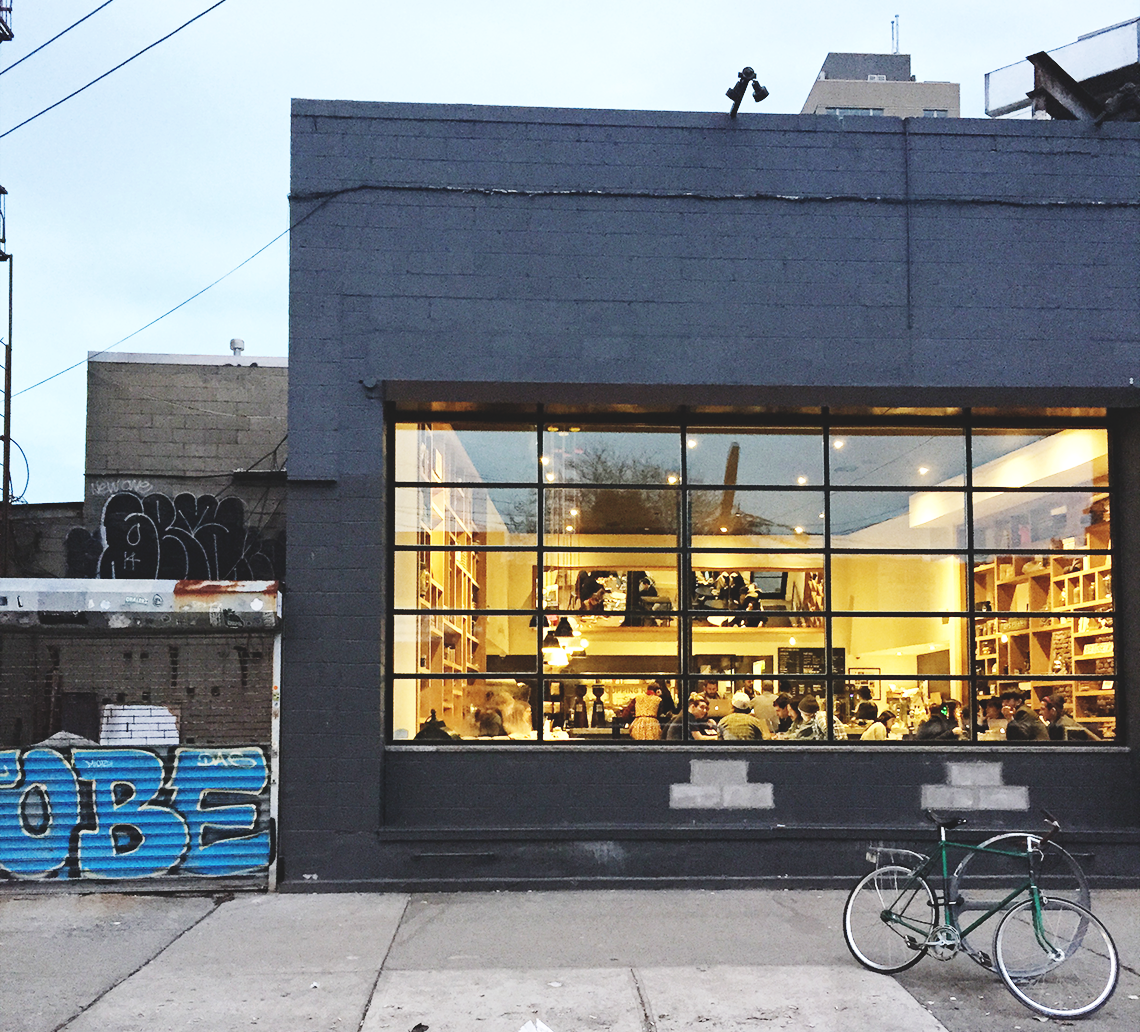 for working
while i love working from here, some things to keep in mind are: it's always busy, there are no outlets, and you'll most likely have to share a table. that being said, you should still make the trek. it's always worth it. there's always a nook you can take a seat in until a more desirable spot opens up.
the energy here is quite special. if your schedule is flexible – my favorite time to frequent this spot is during the late afternoon as you're most likely to find a spot, and the light that comes in from the floor to ceiling windows during & post sunset is true afterglow.
for exploring
if you're visiting the area for the first time i highly recommend walking down n6th to the water and taking in the views of manhattan. the waterfront area is spectacular. there's a pier, views galore (manhattan, queens & south brooklyn skyline) and so many places to sit and ponder life.
if you like hardcore workouts, make sure to check out brooklyn bodyburn. it is hands down the best and most challenging workout ever! their motto of, "you don't need more time, you need more intensity," couldn't be more true.
if you want to grab a bite to eat i love reynard at the wythe hotel, bakeri and maison premiere. to sip on some coffee and work: the freehold, kinfolk, devocion and sweatshop are my go-tos.